Healthy microwave cooking – here's how!
Open the microwave, place ready meals inside, close microwave? No way. We'll tell you how to use a microwave to easily create healthy gourmet food.
Position the can opener, peel off the plastic wrap, tear open the bag – when eating out of the microwave, most people think of ready meals. But now let's just push aside our long-held prejudices, because modern appliances no longer only make people who hate cooking happy. Sceptical? We'll tell you how you can easily prepare healthy and fresh gourmet food with the help of a microwave.
Cooking in the microwave – here's how!
Most supporters of good food give microwaves a wide berth. But is usually only because they do not suspect that modern appliances can do much more than just warm up leftovers. Yes, indeed! With a few simple key combinations, foods such as rice, noodles or vegetables are cooked quickly and gently, potatoes are gratinated heartily or a chicken is grilled crispy.
And with a little know-how and the right recipes, even whole dishes can be prepared in certain microwaves.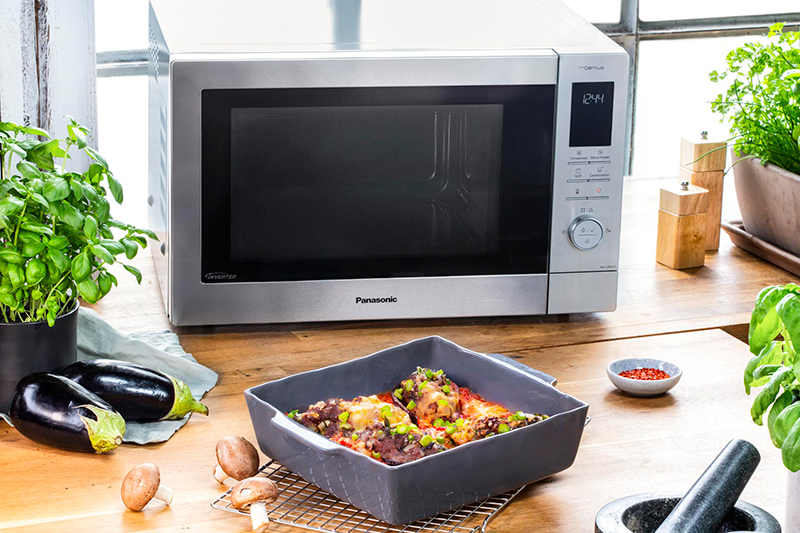 Baked Stuffed Aubergines
Microwave – but which?
Whether large or small, black or silver, with buttons or knobs – an unmanageable range of products emerges from the shelves of electronic outlets. The enclosed operating instructions actually promise an easy handling for every model. But you do not only want to heat up ready meals with your microwave – and that's why you should ask the expert right away about the Microwave from Panasonic.
Of course, the so-called Solo Microwave Ovens can also thaw and warm up, but even these basic models have a significant difference compared to those of other providers: the Inverter Technology. While conventional microwaves turn the heating process on and off continuously and thereby consume a lot of energy, the innovative technology of Panasonic microwaves ensures constant heat. This way, dishes are cooked both gently and evenly, heated and thawed. For any food, whether frozen or from the cupboard, you simply select the right programme in the menu of the device. The difference to conventional devices can, for example, be seen in the thawing result: A steak is still frozen in the middle, while the steak is already burnt at the ends. With Panasonic's innovative microwaves, foods of all kinds are evenly thawed or cooked. This does not only save energy but also time. And the best: A large portion of the nutrients of the food is retained with this preparation.

In addition to the Solo Microwave oven, Panasonic's range also includes Grill Microwave ovens. Thanks to the combination of grill function and Inverter Technology, you can even prepare a steak perfectly. And that's already part of the higher kitchen art!
You want even more? Then take a look at the Combination Microwaves with hot air and grill, you can even bake in them! Well, and of course there's the royal solution, for those who want to grill, bake, gently cook AND steam: drum roll, the Steam Combination Microwave Oven combines all of the features.
Our conclusion: The new Panasonic microwaves combine the functions of various kitchen appliances. This makes them smart helpers, but that's not the only reason why every kitchen is enriched: Thanks to smart combination programmes, you can save up to 40% time and plenty of energy while cooking. No matter which model you choose in the end, with proper use, an optimal result is guaranteed.
Microwave recipes
For a successful career as a microwave cook, we have six recipes for you, guaranteed to provide tasty moments at the kitchen table.
With the microwave through the day
Sweet breakfast at the push of a button? This Cocoa Porridge with Owl Fruit Garnish will be in your dish in ten minutes. You want savoury food in the morning? Then switch on the microwave for Baked Beans with Spring Onion, Egg and Radishes. Thanks to the Panasonic Microwave NN-ST45 and NN-ST48 Junior Program, nothing can go wrong during preparation: simply enter the weight of the food, press start, sit back and enjoy.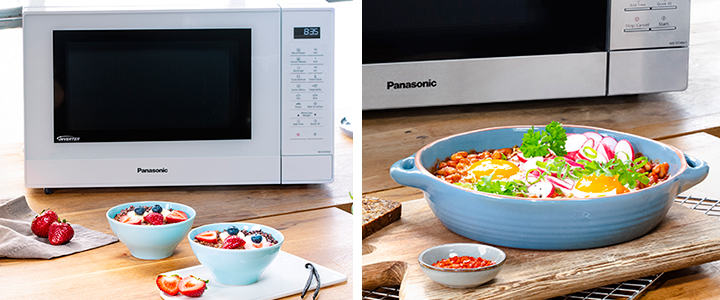 It has to be fast and still delicious in the lunch break or in the evening after work? With the microwave, all this is not a problem. This recipe for Beef Meatballs with Carrot Spaghetti is not only done in no time at all, but is also low in carbs. The Panasonic GT-45 cooks for you.

Special occasions require a special meal? No problem, because in the big Panasonic Microwave NN-CD87 even a whole chicken can be prepared in the microwave. And who would have thought it? Even a fine Saltimbocca can be served thanks to the right combination programme of the Panasonic GT-46.

Cup cakes – the most popular recipe from the microwave
Fancy a juicy piece of cake, but only have ten minutes? Simple recipes for cup cake from the microwave are the solution here. Be it chocolate or vanilla cup cakes, Lemon Mug Cake, banana or peanut butter, cup cakes free from eggs, sugar-free or vegan – the sweet blessing from the cup is and remains the most popular microwave recipe. At the push of a button you can also bake gluten-free, low-calorie or healthy cup cakes. You want to make the standard cup cake a cup cake brownie? Go for it! Click here for our Pull-apart Mug Cake with Orange Mint Salad.