NN-CS89
Powerful steam, convection, grill and microwave. The best way to save your vitamins and time. With versatile settings and two cooking levels, this combination steam oven is an all-in-one kitchen companion. An attractive design that's easy to clean.
4-in-1 Combination Steam Oven
Easily prepare an array of meals for you and your family using steam, convection, grill or microwave power. Steam fish and vegetables, bake a home-made pizza or even roast a whole roast chicken to perfection, your culinary imagination has no limits with this Combination Steam Oven. Everything you need in one compact and stylish home appliance.
Healthy Steam Cooking
Our most powerful steam oven to date, allowing you to steam on two levels you can enjoy fish and vegetables being cooked at the same time. The 1300W steam function is possible thanks to an integrated 800ml water tank that you simply need to fill up. Dual steam outlets quickly fill the oven with pure steam, cooking quickly and efficiently while maintaining its nutritious taste.
Time-saving
Save valuable time! Dishes are cooked up to 40% faster than traditional methods thanks to Inverter Technology. Up to three functions can be used simultaneously for quicker, better results – there are 12 pre-set Combi settings to choose from. For example, conjure up delicious lasagne using convection, grill and microwave power at the same time.
Easy To Clean
The oven features a stainless steel interior and Auto Cleaning programs using hot steam, virtually doing the work of cleaning for you. Because the grill heater is cleverly integrated into the cavity, and the flatbed does not feature a turntable, cleaning is effortless with a single wipe. The outside is free of buttons or knobs, also making cleaning quick.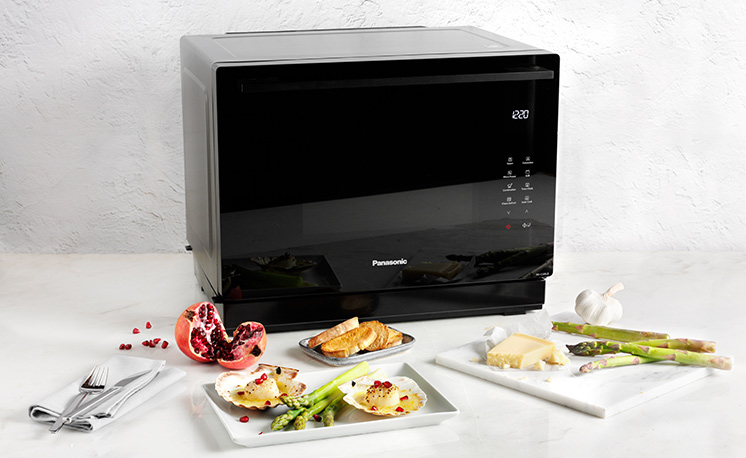 To view or rotate the model drag the image with your mouse and to zoom in and out, scroll up and down.
To view or rotate the model drag the image with your finger. Zoom with your fingers by moving two fingers closer together or apart.
Close