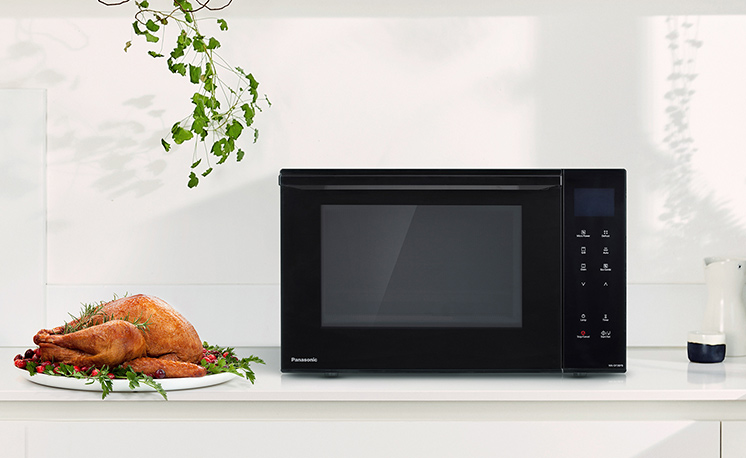 NN-DF38
View recipes with this productGet support
Healthier eating and a more sustainable way of cooking is effortless with Panasonic's DF38PB Compact Combi Microwave Oven. Eco Combi technology lets you use grill and microwave power at the same time, for delicious oven food that saves you up to 55% time and 40% energy.* Experience the joy of cooking and treat your inner wellbeing through quick, healthy, and delicious food.
3-in-1 Compact Combi Oven
Roasted chicken and vegetables, crispy homemade pizza, delicious cakes any time. Cook with pleasure using the NN-DF38 3-in-1 Compact Combi Oven. Choose from oven (top/bottom heater), grill or microwave power and have fun bringing out the foodie in you. This easy-to-use oven has all you need in one compact, slim and modern design – made to fit into any kitchen.
Eco Combi Cooking
Want to cook more efficiently to save energy and time? Using the Eco Combi Mode – grill and microwave power at the same time – is more efficient than using top/bottom heat alone, allowing you to cook delicious oven food much quicker, with no pre-heating required. From crispy chicken to fish fillets and pizza, you can reduce energy consumption by up to 40% and cooking time by up to 55% when using Eco Combi Mode instead of Oven Mode (top/bottom heating).*
Compact oven-like design
Perfect for smaller kitchens with limited countertop space: the NN-DF38 is extremely compact in size while giving you a large cooking space that fits even a whole chicken! The slim width frees up countertop space in front for taking care of little things – while the pull-down door gives you more setup flexibility. Because it has no turntable, you can easily use the included enamel tray or even rectangular cookware.