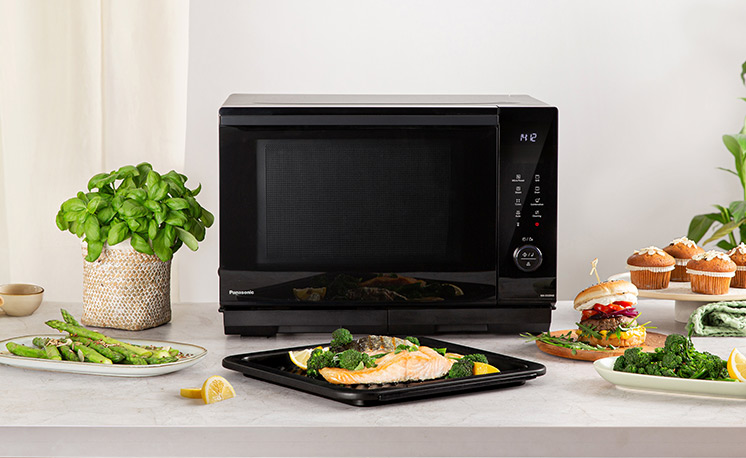 NN-DS59
The DS59 4-in-1 Steam Combi Oven is your helper in the kitchen – letting you create healthy, tasty dishes for everyone. Using steam, oven (top/bottom heater), grill or microwave power, you can preserve nutrients and enjoy crispy results quickly and easily.
Healthy. Tasty. Fast.
Healthy steamed fish and vegetables, crispy homemade pizza, delicious treats any time … cook with pleasure using the NN-DS59 4-in-1 Steam Combi Oven. Choose from steam, oven (top/bottom heater), grill or microwave power and have fun bringing out the foodie in you. This easy-to-use oven has all you need in one compact, modern design – made to fit into any kitchen.
Healthy steam cooking
Revel in healthy cooking that preserves the natural flavour and nutrients of each ingredient. Thanks to the integrated water tank and boiler, the DS59 delivers a powerful 1100 watts of steam. It thoroughly fills the whole oven with steam so that you can quickly cook an entire meal such as fish and veggies in just 15 minutes.
Unique Grill Tray
Crispy results with full flavour – this is easy to achieve with the supplied Panasonic-unique Grill Tray. Microwave power heats up the bottom of the tray while the grill function works from the top to grill chicken, crisps and more. Or choose the steam function from the top for crunchy, nutrient-rich vegetables.
Easy cleaning
Cooking is more enjoyable when it requires less work. Which is why the DS59 features a whole range of easy-cleaning conveniences. Panasonic's new unique flat grill heater and the stainless steel interior that can be simply wiped down, along with special cleaning programmes using steam. The Grill Tray is even dishwasher-safe, ensuring less cleaning effort all-round.