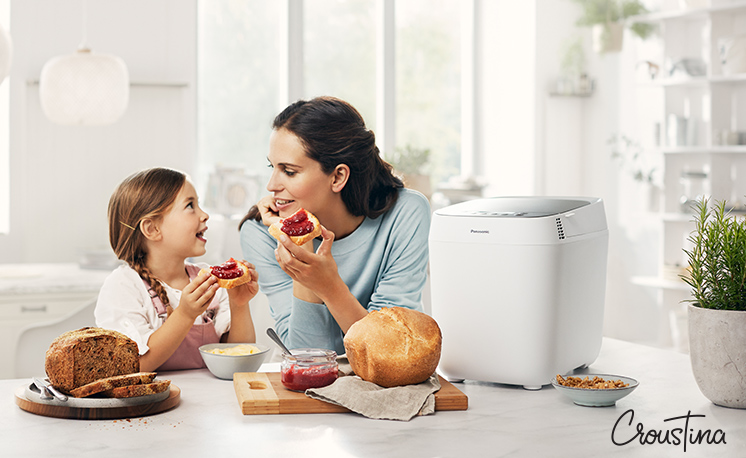 Croustina – SD-ZP2000
Croustina will delight the bread Iover in you. lts special touch? The most delicious hard crust you can make and savour at home. With Croustina you can bake all kinds of tasty bread in a wonderfully artisan-style oval shape. Healthy options Iook after you and your family and special programmes for pizza dough, jam and cake allow you to be truly creative.
Your bread, your choice
Wouldn't it be wonderful to enjoy delicious home-made bread every day – exactly as you like it and with a delectable hard crust? With Croustina, you can make so many types of bread at the touch of a button. Set your imagination free to create protein bread, polenta crust or turmeric cashew loaf … and more! You decide on the ingredients, for healthy, tasty moments.
Revolutionary homemade crust
Bring the bakery to the kitchen with Croustina. Now you can create delicious crusty bread in a perfect oval shape. Innovative technology makes it possible, with the baking process fine-tuned to perfection.
Food allergy friendly
Croustina means freedom when it comes to gluten intolerance or food allergies, with specially engineered programmes for perfect gluten-free bread and cake results. As you choose your ingredients, you can leave out allergens. Now you can bake delicious foods, while looking after the well-being of you and your family.
To view or rotate the model drag the image with your mouse and to zoom in and out, scroll up and down.
To view or rotate the model drag the image with your finger. Zoom with your fingers by moving two fingers closer together or apart.
Close