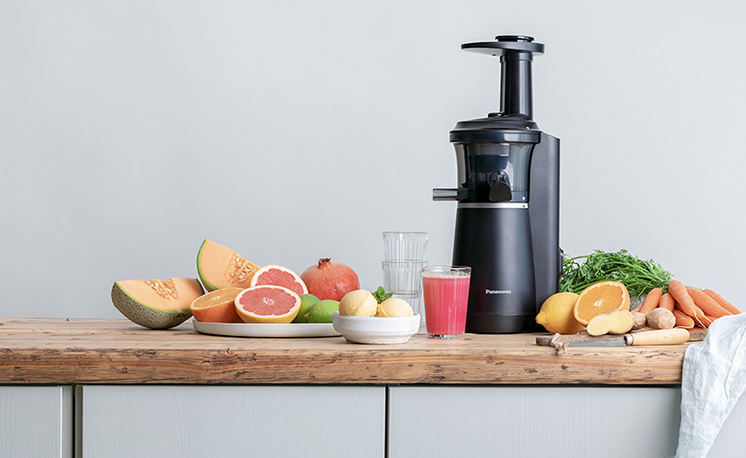 MJ-L501
The new Panasonic Slow Juicer MJ-L501 is a joy to use – compact, quiet and easy to handle and clean. It squeezes slowly, gently extracting all of the nutrients and delicious taste from the ingredients. Reward yourself and your family with healthy juices and frozen desserts.
Slow Squeezing for Higher Vitamin Retention
The stainless steel screw rotates slowly to gently crush and squeeze the ingredients. This results in a maximum juice extraction and retention of vitamins, nutrients and anti-oxidants which are vital for health and well-being. Even hard and fibrous ingredients such as ginger, carrots and celery can be easily juiced.
Healthy Juices Without the Separation
Less air, less oxidation.
Ingredients are squeezed slowly and gently for higher extraction of vitamin C and other nutrients (left image). Standard juicers use blades and create friction due to speedy rotation that leads to loss of vitamins and juice separation (right image).
Fresh Juices and Frozen Desserts
Use the juice filter to make tasty fresh juices or use the attachment for frozen ingredients to easily create healthy desserts such as sorbets or frozen yoghurts.