How to Steam Vegetables & Fish
Steaming is a great way to cook; it doesn't add calories through potentially unhealthy cooking fats and, in some instances, even increases the availability of certain nutrients and minerals in the foods you are cooking.
With steaming, in contrast to boiling, the food never meets the water, meaning that nutrients and minerals will not be seeped out. So, not only are the health-boosting components of food made more available, but they are also better retained through the cooking process.
Fish and vegetables are arguably the most popular types of food associated with steaming; however, many people are unsure as to how to use a steaming method to cook these foods.
We have created a guide on the "which, why and how" of steaming vegetables and fish, so that you can begin to incorporate these cooking techniques to achieve a healthier lifestyle.
Fish
Which fish are best to steam?
Virtually all fish (and most seafood) can be steamed; the ingredients, however, must be fresh. Other cooking methods may be more forgiving, but steaming will highlight whether the fish you've purchased (or plan to use) is truly fresh.
If you are steaming fish with white flesh, then the finished result should be as equally white too. If the fish begins to develop a yellowish hue this means that it is not fresh, and the taste, texture and especially the smell, will ruin the culinary experience.
We would recommend starting with smaller, boneless fillets (which any fishmonger can provide, as will most major supermarkets). They take little time to cook, are difficult to get wrong and provide a highly nutritious and tasty meal. Once you've mastered these, then try whole fish, a true spectacle for dinner parties, cookouts or even family dinners. Whilst requiring a tad more attention, preparation and awareness, the results are well worth the effort!
How should I steam fish?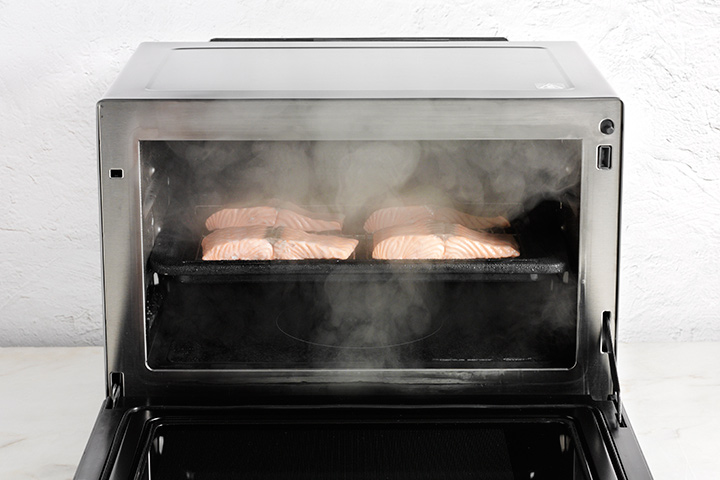 There are several ways to steam fish, but the most universally available is pan-steaming.
To steam fish in a saucepan, add 2 inches of boiling water to the pan, place the steamer over the pan (ensuring it doesn't come into contact with the water) and cover tightly with a lid.
You can choose to add a marinade to the fish to allow it to infuse into the fillets, or when you use a whole fish, to stuff it into the cavity.
A common misconception when steaming fish is that you must cook it until the flesh is flaking. However, the fish will continue to cook once removed from the heat, and so a more ideal time to adjudicate when it is "done" is just before this, as it begins to flake.
A general rule of thumb is to steam the fish for ten minutes per inch of thickness of the given fillet.
If you're planning on steaming fish regularly, however, you may want to consider investing in a premium, convenient steaming appliance, such as the Panasonic NN-CS89 steam combi oven. This versatile, all-in-one appliance has an integrated 800ml water tank and two cooking levels, allowing you to steam fish and vegetables simultaneously, saving time, effort, and energy. A bonus of using this combi microwave is that you can combine its functions to steam, bake and grill your food to perfection.
To steam fish using this ingenious appliance, all you have to do is pop the food into the oven and specify the cooking time, or choose from one of the auto steam programs and let the oven do the rest. Two steam outlets readily fill the oven with pure steam, cooking the fish quickly while retaining all the natural flavours.
Is steaming fish better?
Fish are a great, calorie friendly source of protein and essential fatty acids. Steaming may be the perfect approach to retaining the "health halo" surrounding fish given that it has fewer calories and less fat than fish cooked in oils or butter.
Additionally, other methods of cooking may negatively impact the essential fatty acid content of the fish which can strip away some of the reported health benefits.
Vegetables
Which vegetables can be steamed?
Steaming is a cooking technique that can be employed irrespective of the vegetable in question, it just comes down to the practicality element of it for a given household, and the suitability of the vegetable to be steamed (as some simply aren't pleasant to eat post-steaming).
Establishing uniformity is an important first step when cooking your veg. If you're cooking something like root veg, for example, try and cut it into equally sized cubes so that they cook evenly and at a similar rate. Additionally, cooking the likes of broccoli and cauliflower, it would be advised to break larger heads into smaller, evenly sized florets.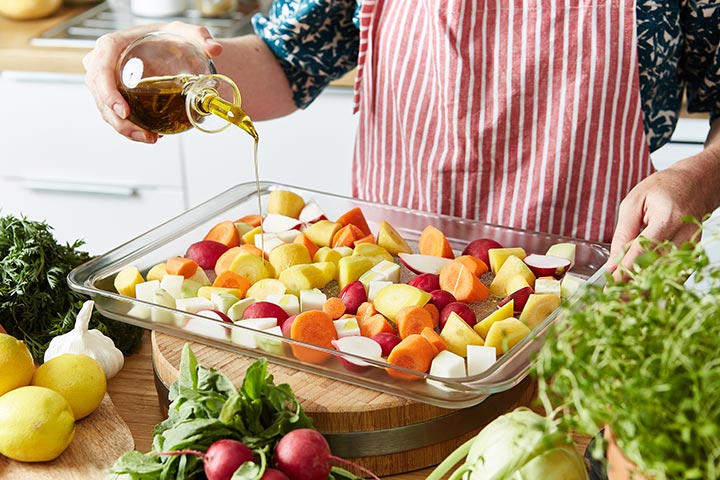 You can mix vegetables, but be aware that more tender vegetables, like spinach, will cook faster than denser vegetables, like sweet potato. Starting with the longer to cook veg first would be advised before eventually adding in the more tender veg.
How to steam vegetables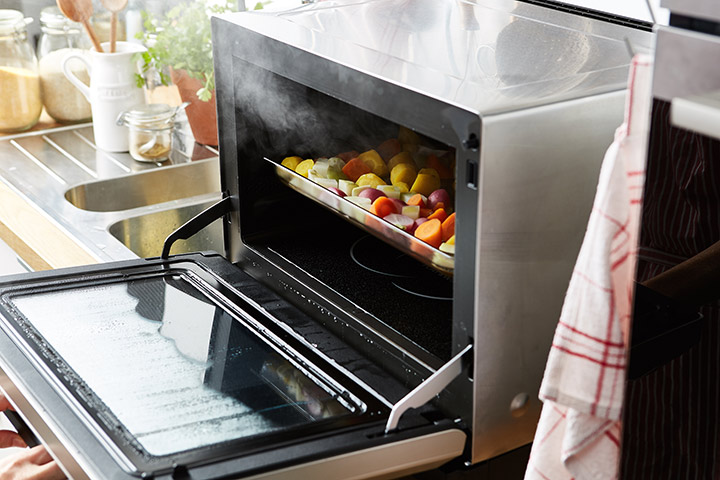 The methods and equipment used to steam veg are similar to how you'd steam fish. As with fish, knowing to take the veggies off the heat just before they are fully cooked is important.
Like fish, vegetables continue to cook after being removed from the steaming method, so we advise removing them from the cooking source when they are still slightly crunchy. This helps the vegetable retain some texture when being served, avoiding it developing that "mushy" texture that is not too dissimilar to baby food products. The exception to this would be root vegetables like potatoes, carrots etc. however you may have a personal preference to keep them slightly "crunchier".
If you are cooking vegetables using a pan-steaming method, simply fill a pan with several inches of water and bring to the boil before placing your steamer over and covering. Keep an eye on the pan however, as if you are steaming for an extended period the water may need to be topped up.
The process for steaming vegetables in the NN-CS89 steam combi microwave is the same as outlined above for fish. Simply insert the veggies, select a desired time or program, and let the oven do the rest. The combi ovens two cooking levels and innovative flatbed design allow you to cook more vegetables simultaneously, saving both time and energy, perfect for families or dinner parties.
Cooking times will vary depending on which vegetables you are using but you can expect these kinds of time requirements (again, these will vary depending on the size of the pieces you are cooking, the smaller the piece, the faster the cooking time) irrespective of the method you choose to use:
Peas – 3 mins
Green beans – 4-5 mins
Spinach and other leafy greens – 5 mins
Asparagus (thick spears) – 5-6 mins
Broccoli and Cauliflower florets – 5-6 mins
Root vegetables like carrots, parsnips etc. – 6-10 mins
Brussels sprouts – 8-10 mins
Kale and collard – 10 mins
Potatoes – 10 – 20 mins
The vegetables are done when you can easily pierce the thickest part of the vegetable with a knife or skewer. Most vegetables are also bright and vibrant in colour when ready. As mentioned, they will continue to cook in the residual heat so remove from the steaming process whilst still a little crunchy.
Why should we steam vegetables?
Like fish, steaming vegetables can be an easy calorie saver, no oil or butter, no added calories!
However, steaming may also offer additional benefits when it comes to veggies, one example of this is how the steaming process can soften the 'tough to digest' fibrous carbohydrates, meaning less gut irritation for those who are sensitive to these carbohydrates.
Steaming can also increase the bioavailability of certain vitamins and minerals in some veggies, improving their nutritional value and proposed health benefit when compared to other cooking methods such as boiling, where vitamins are leaked into the water rather than retained (see charts below).


Steaming is an incredibly healthy way to prepare your fish and vegetables, reducing calorie content, improving digestibility and even vitamin and mineral availability.
Virtually all kinds of fish and vegetables can be steamed too which is great for those who are focused on improving their health. With steaming being a fairly simple and fast way of cooking, we hope that this guide highlights why you should consider incorporating more steaming into your cooking practices. At the same time, this will help you on how to approach steaming to create nutritious, yet delicious meals that you, your family and your friends will love!
If you're looking for some inspiration to get your creative juices flowing, discover delicious recipes below, such as 'Steamed Salmon with Mango Salsa' and 'Lemon and Thyme Steamed Chicken'.
Steamed & Grilled Lamb with Vegetables
More recipes using steam:
In the market for a new kitchen companion? Find out more about the NN-CS89, a 4-in-1 combi steam oven that allows you to combine steaming, baking, grilling, and microwaving to achieve the perfect results every time.