Juicing at its purest – the juice bar on your doorstep.
When it comes to taste and goodness, it is no secret that freshly squeezed juice beats anything you will find on the supermarket shelves hands down.
It is simpler however to just open the fridge – grab a bottle and pour some juice. Convenience at its best. And for added freshness, throw all the ingredients into the blender and purée to make a smoothie …
… that is to say a smoothie that is no longer exactly smooth or puréed apple that resembles baby mash more than a refreshing, ice-cold drink.
So we got to thinking about juicing again and as luck would have it our friends over at Panasonic gave us the MJ-L500 to try out.
Which is the right juicer to choose?
As always there is an appliance to suit practically every need and every taste. Do you have a large allotment garden with apple trees, for instance, and want to make all sorts of apple juice with a long shelf life? Then a slow juicer is no doubt ideal for you.
Like us though, what most people want is the occasional freshly squeezed juice.
Both centrifugal juicers and slow juicers, as they are known, are available for making freshly squeezed juices in smaller quantities that have a shorter shelf life.
The centrifugal juicer produces juice at a high rotation speed, which results in precious nutrients being lost in the juicing process as a result of the unavoidable generation of heat. Slow juicers, on the other hand, squeeze the fruit and vegetables slowly, without creating heat. Cold juicing is therefore the gentlest way to produce fresh and healthy juices.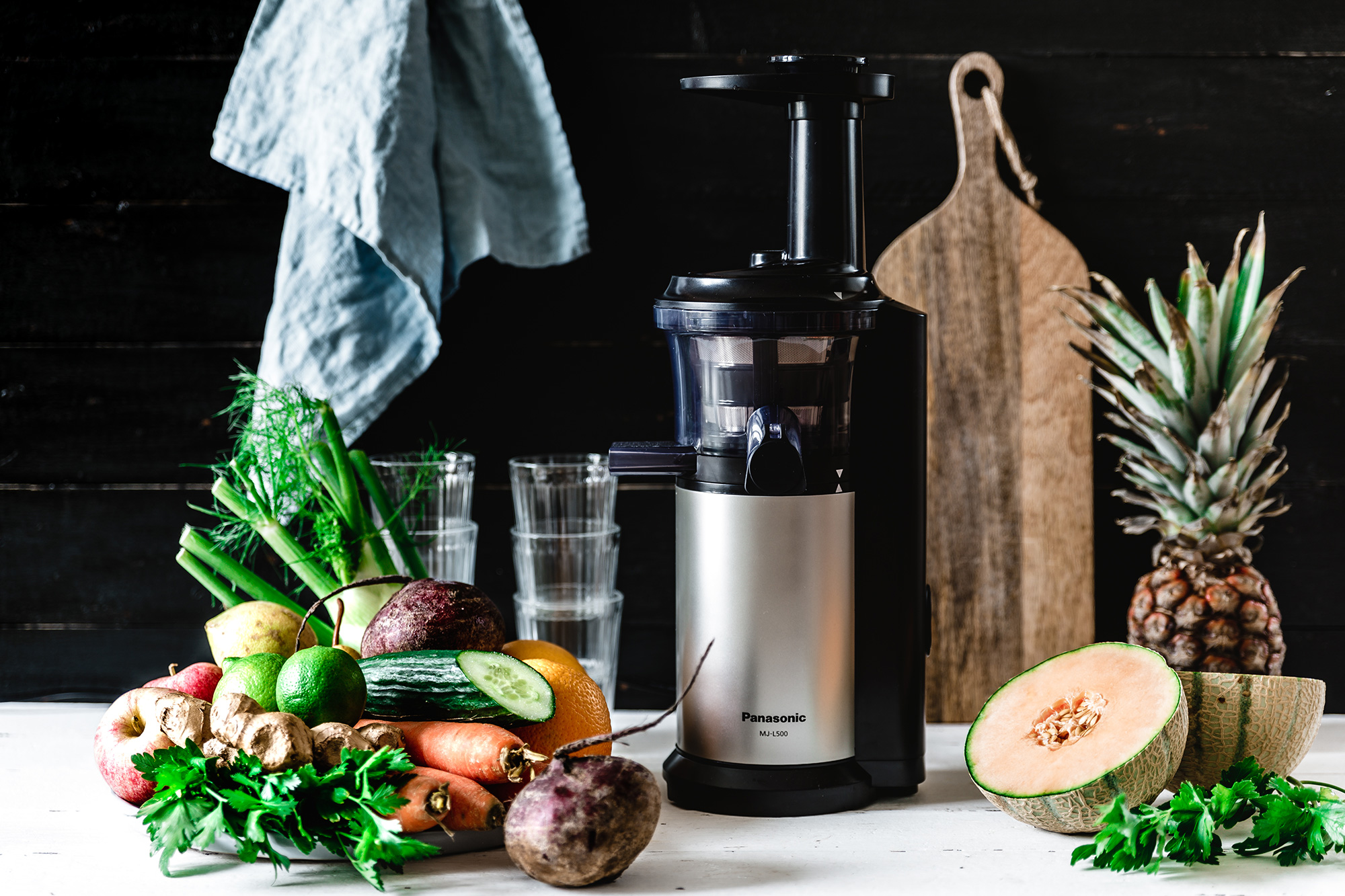 Which fruit and vegetables are best suited to juicing?
The most important thing when juicing, apart from the juice extractor itself, is of course the quality and the right fruit and vegetables.
The fact that only a small amount of juice can be extracted from a banana is probably fairly obvious would you say??
Fruit and vegetable varieties, which produce especially large amounts of liquid and volume and are not too sweet, are therefore the ideal types to use for juicing.
These fruits and vegetables include, for example:
Citrus fruits (oranges, lemons, limes, grapefruit)
Apples
Cucumbers
Carrots
Celery, etc.
But beware: To extract the ultimate health benefits from the juice, it makes sense to not only squeeze sugary fruits. Obviously the taste is more appealing, but the good enzymes, vitamins and nutrients are unfortunately pretty much overshadowed by the high fruit sugar content.
Therefore simply try replacing some of the sweet fruit ingredients with delicious greens like baby spinach, lettuce, kale, fresh herbs like parsley and healthy refinements such as ginger and mint.
A mixing ratio of around 80 percent vegetables to 20 percent fruit is a good guide.
The palate can be accustomed quite easily to a less sweet taste and in no time the more subtle or also sharper tastes will be more appealing than the sweet flavours. That's a promise!??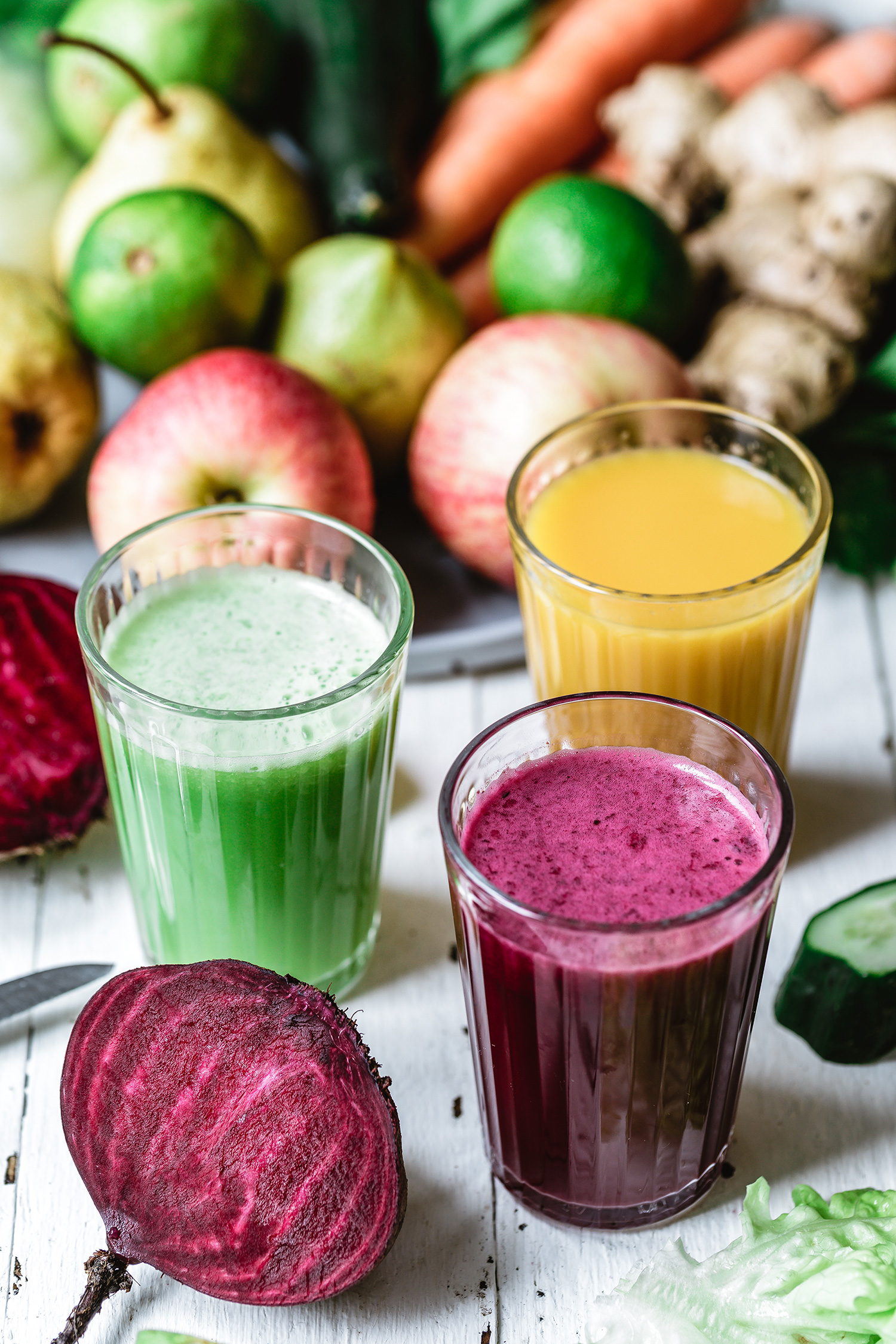 How are fruit and vegetables prepared?
Trim or prepare the fruit and vegetables as needed to suit the size of the juicer's feeding tube.
Citrus fruits are peeled – though for the more daring and those who shop for organic quality, some of the peel can also be left on for an added fruity citrus aroma. To scintillate the taste buds!
Cores of apples, pears, etc. can be removed or also processed – as you prefer.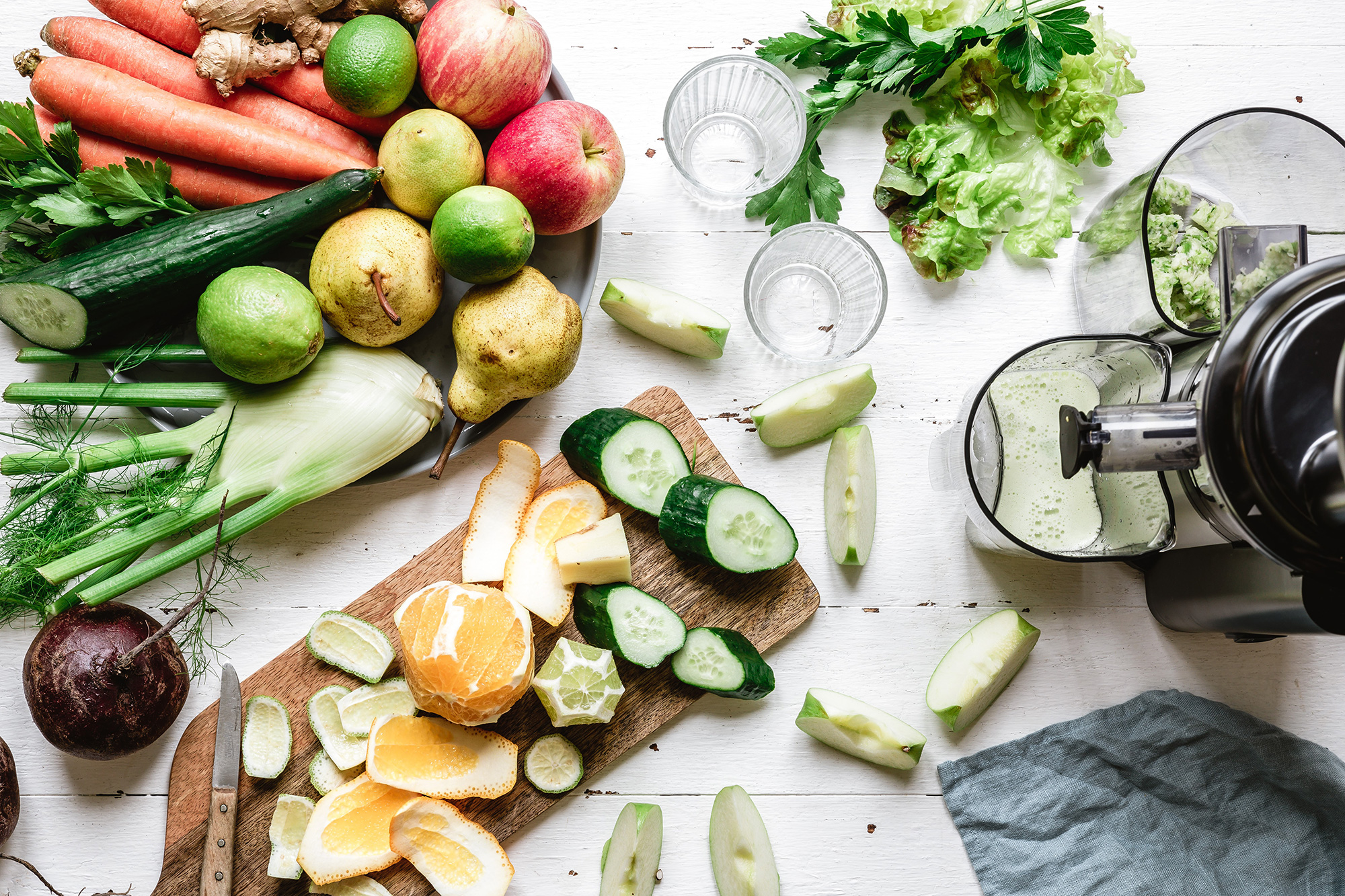 Bio all the way or?
It is especially important when juicing to get the full concentration of healthy ingredients from the particular fruit and vegetables. Pesticides and their like therefore have no place in my freshly squeezed juice.
If you prefer not to or cannot access organic ingredients exclusively, make sure at least with certain fruits and vegetables to choose the organic varieties. The most popular sorts such as cucumbers, tomatoes, apples and strawberries are unfortunately the worst culprits when it comes to pesticide exposure.
Check out this list from the American non-profit organisation Environmental Working Group, for example, for a good overview of conventional foods that are particularly exposed to pesticides.
When doing your big shop for fruit and vegetables, it is best to choose a trusted organic grocery store and pay attention especially to regional and seasonal produce. The weekly market is also an ideal location and over time you will discover when and where to find the best organic apples and beets.
How long is the shelf life of squeezed juice?
It is obviously best to drink fresh juice straight away since it then still contains all the precious nutrients. As soon as the fruit is exposed to oxygen, it oxidises and gradually loses its benefits. This happens especially quickly with juices containing chlorophyl, so green juices.
But with the stresses of everyday life, you may not always have time to start up the juicer every day. In this case, the juice can be safely stored in well sealed, clean glass bottles for up to three days in the refrigerator. It may no longer be as rich in vitamins unfortunately, but it will still taste delicious.